Chemistry and Biochemistry
Chemistry is the 'central science' – a foundational scientific discipline that is critical to solving many of the world's most pressing problems. At Providence College, we provide our students the tools to satisfy their natural curiosity about the world and explore wherever their interests lead them.
Why Chemistry?
Chemistry is a vital component of the STEM [Science, Technology, Engineering, and Mathematics] fields that have experienced growing employment opportunities and increasing salaries for decades. Our programs train students to hit the ground running by providing a comprehensive grounding in the fundamentals of chemistry and biochemistry.
In the past few years our alumni have entered graduate programs at prestigious schools, including Cal-Berkeley, Columbia, Northwestern, Princeton, the University of Pennsylvania, and Yale. Other alumni have entered medical school at Brown, Tulane, UConn, USUHS, and Wake Forest, dental school at Tufts, and pharmacy school at the MCPHS. Still others found employment at Merck, Hanna Instruments, and Organogenesis.
Special Accreditations
The American Chemical Society​ accredits the Department of Chemistry and Biochemistry, along with its bachelors of science degrees in chemistry and biochemistry.​​​
The American Society for Biochemistry and Molecular Biology (ASBMB) has accredited the BS degree in biochemistry. An accreditation program for bachelor's degrees in Biochemistry and Molecular Biology (BMB) constitutes a powerful vehicle by which the ASBMB can:
Actively and visibly promote excellence and innovation in undergraduate BMB education.
Connect with and recruit aspiring young biochemists and molecular biologists on a nation-wide scale.
Raise the profile and enhance the relevance of our society among STEM educators.
Raise the profile and relevance of our society in the private sector, where employers are often frustrated by the heterogeneity in knowledge and skills exhibited by graduates of different BMB programs.
Alumni Spotlight: Eddie Martucci's Mind Games
On paper, Eddie Martucci '04 is a biochemist. He earned three degrees – a bachelor's from PC and a master's and Ph.D. from Yale – all in biochemistry. But in practice, Martucci is an alchemist of sorts – an entrepreneur, venture capitalist, and scientist who combines seemingly dissimilar specialties to create biomedical breakthroughs.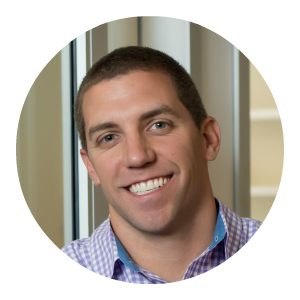 In 2009, he joined PureTech, and incubator and think tank that seeks out "the best scientists in the world working on the best technologies" that have the potential to transform patient's lives. In 2012, he founded Akili Interactive, a "digital medicine" company that has hired top video game designers, biomedical and biochemical engineers, neuroscientists, and business minds to create apps with the potential to treat ADHD and autism.
"At the time, this was a ridiculously crazy idea," Martucci recalls. "I was trained very early to take an interdisciplinary approach to any problem. It's the only way to be successful in the startup environment. If you drop all of the politics and preconceptions of what certain disciplines of science do better than others, you'll discover the best way to solve problems scientifically."
Clearly, he's on to something. In 2016, Akili was ranked No. 1 in the healthcare category of Entrepreneur magazine's 100 Brilliant Companies to Watch and has attracted the attention of Pfizer, Shire Pharmaceuticals, and Autism Speaks.
"At PC, they do a really great thing. In your junior and senior year, you dive into the scientific literature and new research and then present this fascinating new area of research to the department. It's open-book. You can do anything you want. And I think that's reflective of PC generally – you're encouraged not to have too many preconceptions. You're encouraged to find something interesting with no predefined boxes. I still remember that intensely."