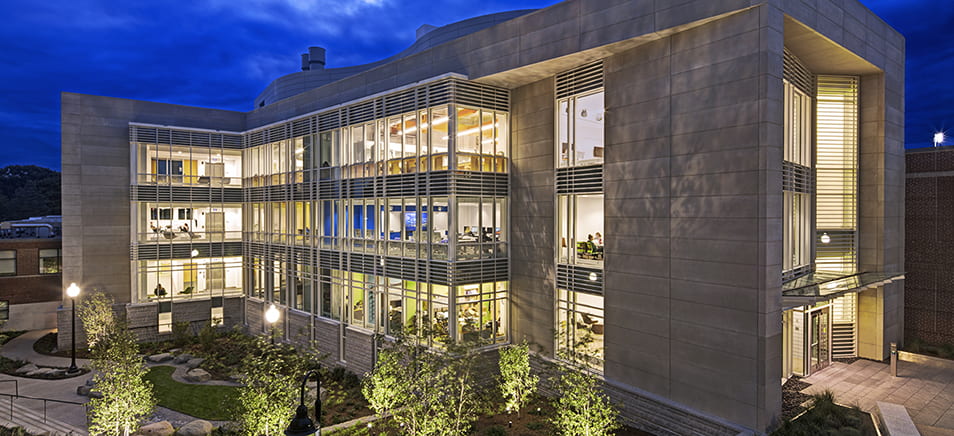 Our Facilities
The chemistry and biochemistry department is housed in a three-building complex (Hickey, Sowa, and Albertus Magnus Halls), together with biology, psychology, and engineering-physics-systems departments. A four-story addition was opened in 2018 as part of a $55 million expansion/renovation project that will provide more than 115,000 sq. ft. of new or renovated space. The new addition includes new chemistry teaching laboratories, a medium-sized lecture hall, a computer lab, three small active-learning classrooms, a chemical storage facility, outdoor classroom/garden, a student commons, and an administrative office suite.
There is adequate classroom space in the building complex that can be shared among all departments. Many faculty choose to teach in Apple TV-enabled classrooms, tiered lecture halls, or in active-learning spaces (including those with iPads). Quiet lounge area for student use is spread throughout the building. These spaces are equipped with tables, soft furniture, networked computers, and attached private rooms for students to collaborate and study in private or in small groups. Our teaching laboratories for general chemistry, organic chemistry, biochemistry, and our suite of advanced experimental courses are fully equipped with the latest technology and instrumentation.
Our research facilities consist of more than 3,000 square feet of space in three multi-user laboratories. The "measurement" laboratory has two 4' fume hoods, two 6' fume hoods, machining equipment, and two gloveboxes in an open floor plan. The "biochemistry" laboratory has a single 8' hood and 12 benches. A warm/cold room is located down the hallway. The "synthesis" laboratory has six 8' fume hoods and benches that are equipped with inert gas, water, compressed air, and house vacuum. Shared laboratory equipment includes several explosion proof refrigerators, flammable solvent cabinets, glassware ovens, rotary evaporators, and analytical balances. Each of these laboratories have computers that have installed major software required for research purposes, including Microsoft Office, ChemDraw Prime 16.0, Gaussian, and Spartan 14. The research facilities are supported by a large central chemical storage area and a bulk storage room on adjacent floors.
The Department of Chemistry and Biochemistry currently has the following shared equipment and instrumentation. We also have access to the research facilities at Brown University and the University of Rhode Island. Use of these facilities is at low- or no-cost to PC users.
Bruker Avance NEO NanoBay 400 MHz NMR spectrometer
Cary Bio 50 UV-Vis spectrophotometer
CEM Discover Microwave Synthesize
CEM Mars6 microwave
Nicolet iS5 FT-IR spectrometer
Shimadzu GC-2014
Rudolph automatic refractometer
Rigol HPLC
Agilent GPC system
Advion compact mass spectrometer
Hewlett Packard GC 1600 GC-MS
Shimadzu UV-2101 PC with temperature controller
Metrohm mAutoLab electrochemical system
Horiba JY Fluoromax 3
B&WTek iRam Portable Raman instrument
Barnstead water purification system
Vacuum Atmospheres NexGen glovebox
Labconco Controlled Atmosphere Glove Box (Model 50701-00)
Biotage Isolera automated purification system
Kugelrohr apparatus
Chromatotron
INERT dry solvent dispensing system
Innovative Technologies dry solvent dispensing system
Coy Lab Vinyl Anaerobic Chamber