About Our Research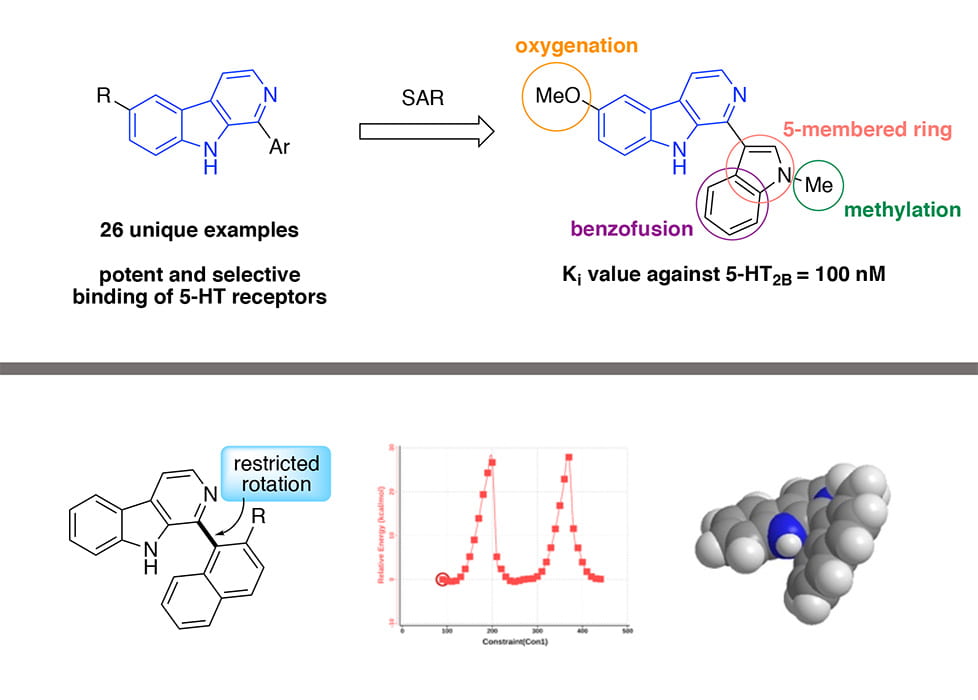 Dr. Mulcahy's research group uses organic synthesis, computational modeling, and biochemical techniques to study molecules known as beta-carbolines. These nitrogen-containing small molecules have been shown to have important medicinal properties, including binding to DNA and the serotonin receptor.
In 2020, the group earned its second consecutive National Science Foundation award to develop new chemical tools for making beta-carbolines in an atropisomeric form. These molecules are unique because they cannot fully rotate around one of their carbon-carbon single bonds. This limitation locks the beta-carbolines in two distinct propeller-like forms that are non-identical mirror images of one another. Preparing one or the other of these forms is a challenge in the field of chemical synthesis but access to these distinct molecules is important for pharmaceutical and material applications.
Dr. Mulcahy and his team of undergraduates are researching ways to selectively make new atropisomeric beta-carbolines using a transition metal catalyst to stitch together the key components.
About Our Students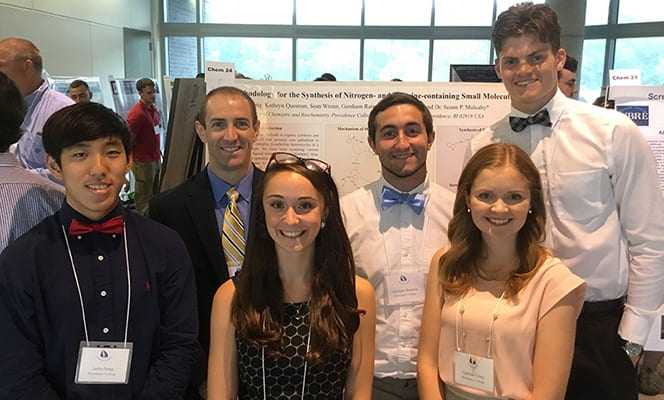 We welcome new students from all backgrounds and areas of expertise. Students in the group have a passion for chemistry, a strong work ethic, and a mindset that embraces challenge. We also make our time together fun by playing music in the lab, watching World Cup soccer together, carving pumpkins for Halloween, making Instagram stories for @pc_chemistry, or grabbing lunch at The Abbey during the summer.
Our students have been awarded notable grants, fellowships, and awards to support and/or honor their research in and contributions to chemistry at PC. These include the Robert H. Walsh Student Research Fellowship, a Summer Undergraduate Research Grant, the McKnight Prize in the Chemical Sciences, and numerous Small Research Grants from the Undergraduate Research Committee.
Undergraduate research students from the group have graduated with an impressive skill set that make them successful in Ph.D. programs in chemistry, as employees in the chemical, biotech, or pharma industry, and as aspiring health professionals.
Our Recent Graduates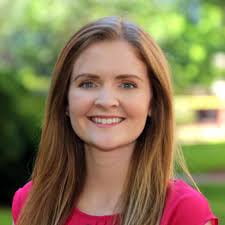 Satyam Khanal, '16 (B.S. Biochemistry)
Ph.D. Candidate in Chemistry at UC-San Diego
Sean Wrenn, '17 (B.S. Biology)
M.D. Candidate at Boston University
Jonathan Varelas, '15 (B.S. Chemistry)
Ph.D. Candidate in Chemistry at Northwestern University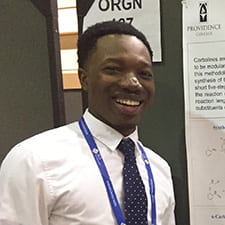 Bianca Saliba, '18 (B.S. Chemistry)
Quality Control Chemist at Pharmasol Corporation
Erin McHugh, '19 (B.S. Chemistry)
Associate Scientist at Vertex Pharmaceuticals
Junho Song, '18 (B.S. Biology)
M.D. Candidate at Hofstra University
Patrick Tate '17 (B.S. Biochemistry)
Ph.D. Candidate in Chemistry at New York University
Publications and Presentations
The Mulcahy Group has published 7 peer-reviewed journals articles since 2012. These articles feature the work of 18 undergraduate students, who appear on the publications as co-authors. Nearly every student in the group has had the opportunity to present their discoveries at the American Chemical Society National Meeting held twice each year in locations such as New Orleans, San Diego, San Francisco, Denver, Philadelphia, and Boston.
Publications: PC undergraduates are underlined
Medas, K. Lesch, R. Edioma, F. Ndahayo, V. Wrenn,

S. Mulcahy, S. Metal-Catalyzed Cyclotrimerization Reactions of Cyanamides: Synthesis of 2-Aryl-a-carbolines. Organic Letters 2020 (22),3135-3139.

Foley, C. Al-Issa, Y. Hiller, K.

Mulcahy, S. Synthesis and Structure-Activity Relationships of 1-Aryl-b-carbolines as Affinity Probes for the 5-Hydroxytryptamine Receptor. ACS Omega 2019 (4),9807-9812.

Saliba, B. Khanal, S. O'Donnell, M. Queenan, K. Song, J. Gentile, M.

Mulcahy, S. Parallel strategies for the synthesis of annulated pyrido[3,4-b]indoles via Rh(1)- and Pd(0)-catalyzed cyclotrimerization. Tetrahedron Letters 2018 (59),4311-4314.

Giulietti, J. Tate, P. Cai, A. Cho, B.

Mulcahy, S. (2016) DNA-binding studies of the natural product eudistomin U. Bioorganic and Medicinal Chemistry Letters 2016 (26),4705-4708.

Varelas, J. Khanal, S. O'Donnell, M.

Mulcahy, S. Concise Synthesis of Annulated Pyrido[3,4-b]indoles via Rh(I)-Catalyzed Cyclization. Organic Letters 2015 (17),5512-5514.

Roggero, C. Giulietti, J.

Mulcahy, S. Efficient synthesis of eudistomin U and evaluation of its cytotoxicity. Bioorganic and Medicinal Chemistry Letters 2014 (24),3549-3551.
Mulcahy, S.

Varelas, J.

Three-step synthesis of an annulated β-carboline via palladium catalysis. Tetrahedron Letters 2013 (54), 6599-6601.